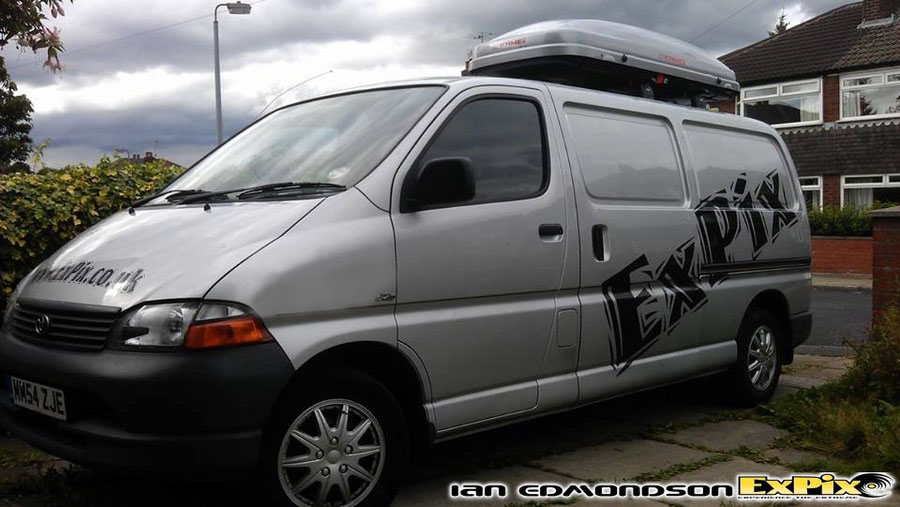 So it's an on-going debate; what's the perfect vehicle to use for travelling and transporting your kit? Vans are an obvious choice, plenty of room for storage etc, but if you want to go the whole hog and convert your van so that you can live or work in it whilst out on the road, how does that affect the available storage space, and where do you put all that bulky or even wet kit? It's a huge dilemma that we know effects a whole bunch of you guys and has caused the ExPix crew many a head ache too!
We've got way too much kit and are always having to compromise on space or doing without gear, so when we were asked to test out the Kamei 450 roof box from The Roof Box Company it felt like it was the perfect solution. And after testing it for over 2,000 miles at several events, shoots and trips; we can honestly say we weren't disappointed.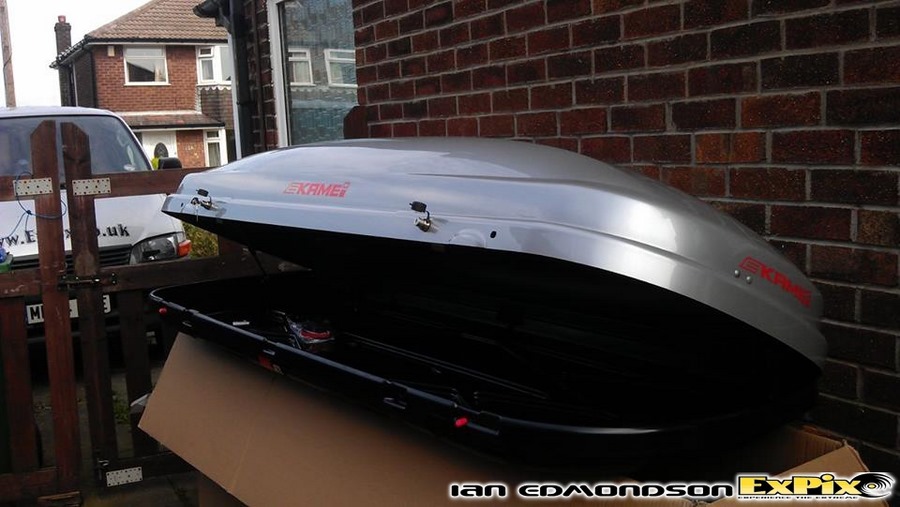 When the Kamei 450 roof box arrived we were slightly overwhelmed by the sheer size of it; at over 7 ft. in length it's pretty impressive to say the least. And this cavernous space can hold up to 450 litres with a weight limit of 50kg; perfect for larger bulky items such as boards, kites, wetsuits, impact vests, etc, etc, etc.

Finding roof bar fittings for our Toyota Hi-Ace van initially looked like it was going to be a problem as our van model isn't listed on many sites. But the guys in the tech dept at The Roof Box Company soon got us sorted out with a pair of Thule roof bars.

With all the tools required to fit the bars and roof box supplied; an Allen key and a spanner, along with the fittings for the attachment points on the van itself; fitting was particularly easy, with the box being fastened to the bars securely with 4 brackets and 8 wing nuts to tighten. The whole process only took about 45 mins and we're sure this would have been even quicker if it wasn't for the fact that the van is so tall!

The roof box feels quite flexible when not fixed in place, which is probably due to its length and we did wonder how this would hold up, particularly in strong winds. Once in situ the flex is not as noticeable and there is no 'flapping' or any noise inside the cab. The roof box is supplied with fixing straps and the fastenings on the bars have fittings for the straps. But just to be sure we'd tested it thoroughly and for our first test we made our way to Tiree in the Hebrides where the gale force winds reached 60 – 70 mph and there was absolutely no problem at all.

Our next concern was fuel economy but again having the roof box on made little difference there either. Driving sensibly there was absolutely no visible difference between a full tank range with the box on top than there was without it. Even when driving 'on the limits' the economy only dropped to a very similar capacity as it would do whilst driving in this fashion without the box; so it could be assumed driving technique was more to blame than the box itself.
Security on the box is by the way of two locks at either end of the opening. Both close by pushing the lock in with the key inserted and turning which makes it difficult to lock the keys inside. Opening is by the reverse method as well as pushing in two red 'clips' to release the lid upwards.

For us the roof box is a no brainer and we can't believe how we've managed so long without one. It's perfect for storing large bulky stuff that takes up living space in the vehicle, and we've really found the extra room inside the back of the van a massive advantage especially when travelling long distances. We can now pull up and use the van as it was intended i.e. mobile office or sleep quarters for trips without having the hassle of keep moving the 'extras' that make a trip or an event so much easier or better every time we stop.

So what can we fit inside?
Well for a road trip / shoots
Fishing rods (beach casters), fishing box, fold away chairs, body board, wetsuit, buoyancy aid, helmets, waterproof camera housing, flippers, small kite, wellies, 2 slacklines (no wind entertainment!)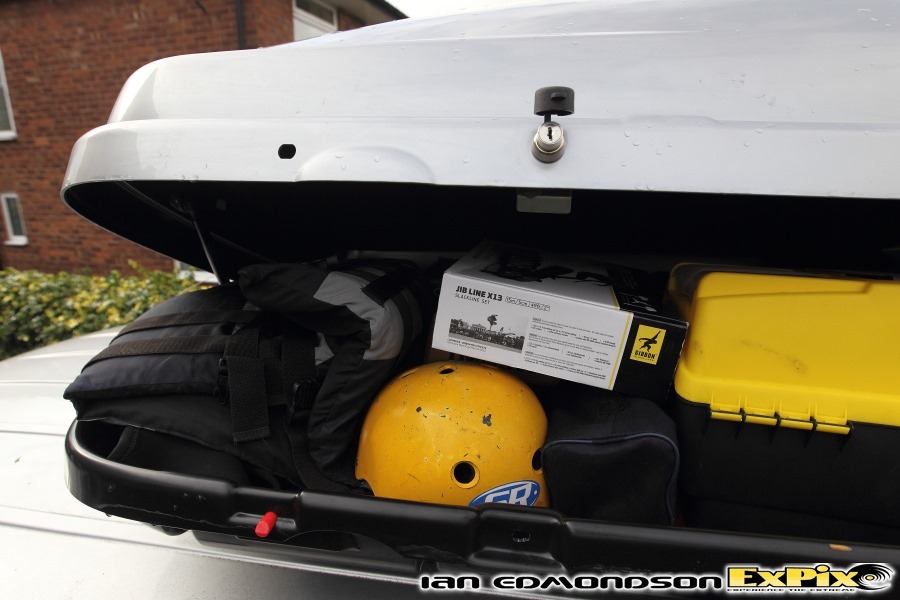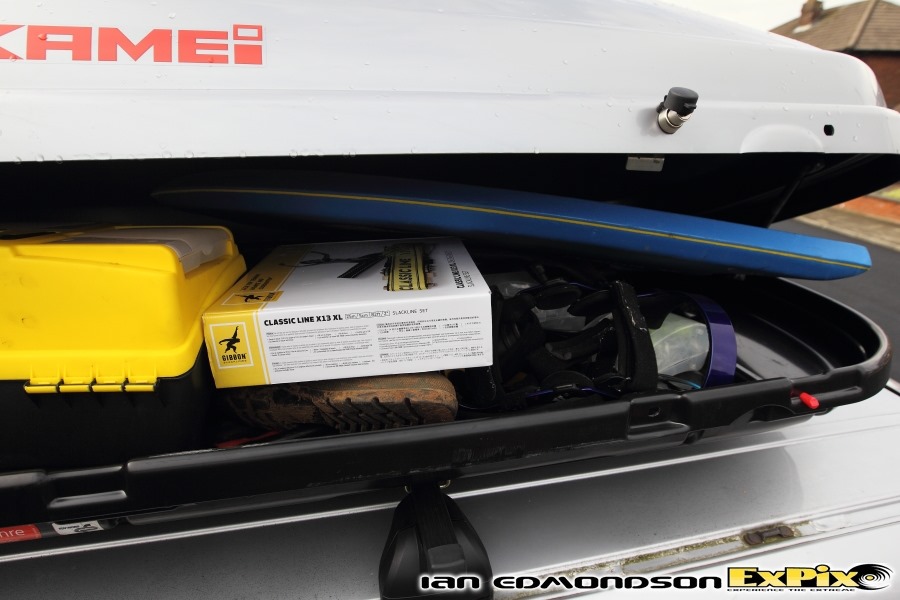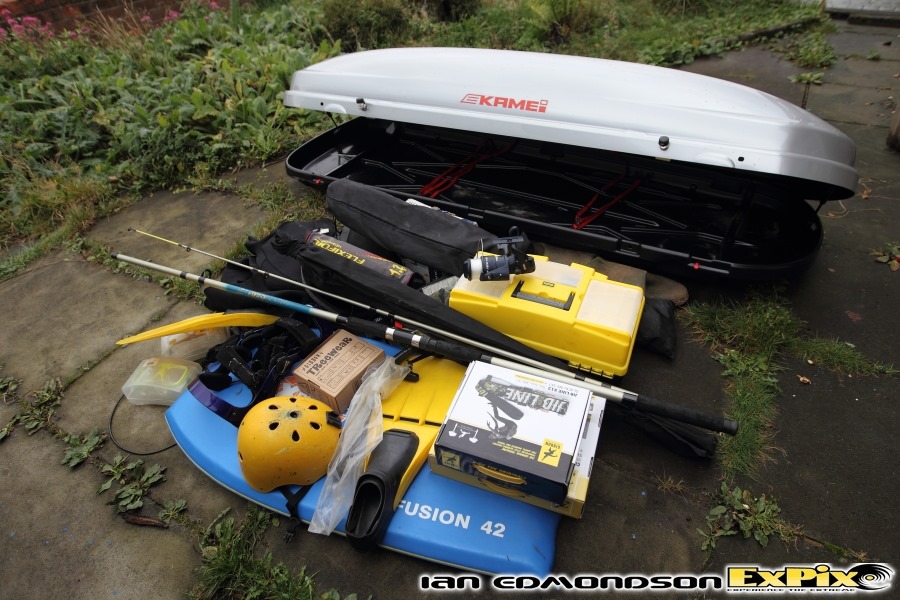 For events
3 deck chairs, table, 2x 4m flags & poles, wetsuit, buoyancy aid, helmet, waterproof housings, flippers, fixings for display tent, normal tent for sleeping, slacklines, small kite and various other small items wedged into the gaps!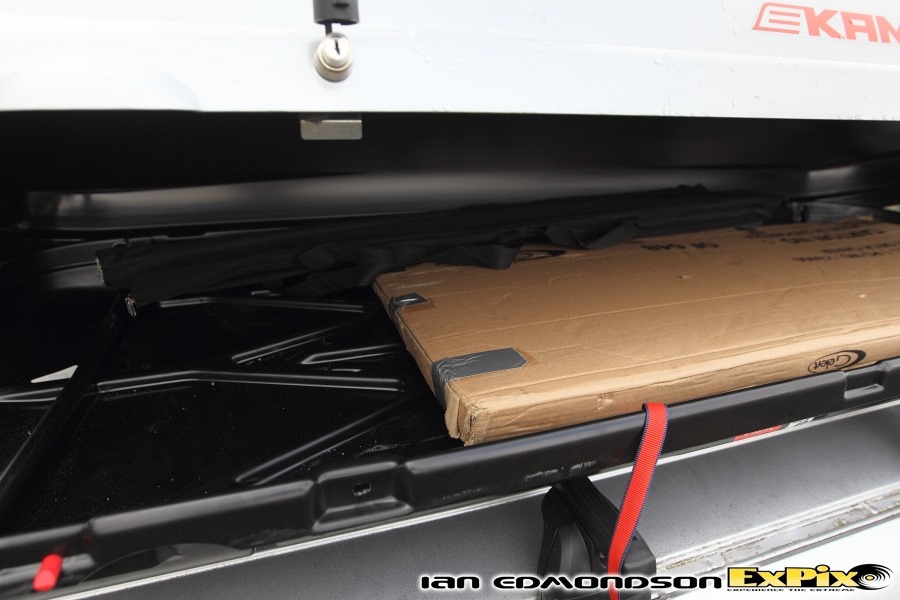 The only issue we have found, and it's not with the box but with the height of the van, is that you do need a pair of ladders if you're going to use the box frequently. But that said you can get fold up ladders that take up less space so that's not really an issue.

So down to the technical Specifications at a glance:
External dimensions: 220 (l) x 80 (w) x 36 (h) cm
Internal dimensions: 208 (l) x 70 (w) 32 (h) cm
Volume: 430 litres
Weight: 19kg
Max load capacity: 50kg
Max number of skis: 7
Opens from: either side - symmetrical so you can choose
Type of struts: hydraulic gas struts
Opens how wide: 32cm
Fits bars up to: 44(w) x 32(d) mm, aerobar and wide bar adapters available
Distance between roof bar fittings: 62 – 87cm
Guarantee: 6 years


If you have a vehicle that needs that little bit of extra room why not contact the roof box company, about a box for your vehicle. They stock a good range as well as other storage / carrying accessories for bikes, ski's and watersports are very helpful and knowledgeable when it comes to finding the right solution for you.