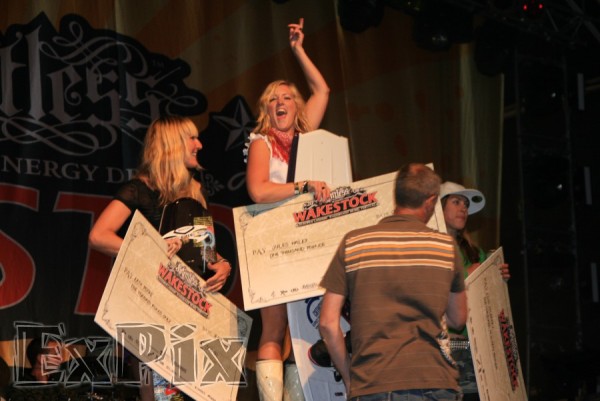 I'm Jules, I'm 20 years old and I love to wakeboard and have fun. I grew up with my awesome family in Buckinghamshire, England. Growing up we always water-skied, but it was my brother that eventually persuaded me to try wakeboarding. I loved it from the first moment, and instantly knew that I had found my passion. I remember thinking that this was what I wanted to do, and have since never looked back! These days I try to get out on the water every day, it's like being addicted to a drug!
Name .......... Julia Robyn Haley
DOB .......... 12/07/1988
Born .......... High Wycombe England
Lives .......... currently in Orlando but home is with folks in Beconsfield in England
Equipment of Choice .......... Hyperlite Syn 17, Hyperlite Syn Bindings
Favourite Spot .......... I love to experience riding in new places all over the world, and a memorable spot for me will always be the Hawskesbury River, Australia.Out in the mountains and surrounded by beautiful scenery, this place is like heaven on Earth! Its also where I stuck my first invert too!
Achievements so far ?
UK Junior Ladies Champion 2007.......... Wakestock Abersoch Champion 2008........... 4thPro Women UK Nationals 2008 ........... 4th Pro Womens EAME Championships 2008 .......... 4th Australian Pro Tour of Wakeboarding 2008
Best Session ?.......... A few days ago i had a really good session out here (Orlando) on Lake Conway, the lake i'm currently living on. It was late in the day and I really wanted to try some toeside 540's. I managed to land my second one, and was sooooo happy! the girls in the boat were all phsyched, and I'm still pumped from it!
What are your goals? .......... My goals are to shred as much as possible, and to see as many new places as I can. I love meeting people who share my passion, riding with other girls and enjoying every moment.
Favourite
Food .......... Seafood
Music .......... Kings of Leon, M.I.A. Hadouken!, The Fray, Counting Crows, Bloc Party
Films .......... Lords of Dogtown, Twilight, Superbad, Waynes World
Who would you most like to meet.......... I'd love to meet Adam Duritz the lead singer from Counting Crows. I grew up listening to his music, I love the way he writes, and can always relate to the lyrics. It sounds weird but the sound of his voice is really comforting to me, it reminds me of growing up and being with my family, all of us in the car belting out the words to 'Mr Jones'! Listening to them always cheers my up when I'm feeling sad or homesick, I'd love to hang out with him for a while, I think we could have some pretty deep conversations!
Which period of history would you like to experience? .......... I'd like to experience the days when wakeboarding just started, so I could try riding on a one-directional board behind a ski boat with a low pole!
If you won the lottery what would you buy first? ..........My dream has always been to have a house on a lake in Orlando, along with a Mastercraft X-star, so it would probably be that! And I'd fly out all my friends and family to shred with me!

If you could have anything in the world, what would it be?..........I would just like to have happiness. If I can have good friends and lots of shredding, then I think I'd be pretty content!

What would you do if you got the 4min warning?..........I'd make sure my Facebook status was up to date!

What colour Smartie would you be? .......... Are there pink ones? I would be pink because I love to be feminine and girly.
How ExPix met Jules Hayley
We haven't really had time to speak to Jules face to face, but we have been at the same events, stood in the same groups and been in the same boat so how we have never spoken to her (apart from via internet messaging programs is a mystery)
Well we first came across Jules at Bleinheim Wakestock 2008. A blonde, cheeky faced, in and around the other boarders, and we hadn't seen her at Wakestock before.
She went on the water and looked good. Unfortunately whilst she was shredding the light wasnt good and I couldnt get the shots I wanted, however this was to change at Abersoch.
The practice session on the Thursday night is always one that I try to attend. There no point going in the boat during the comp as Chris West always has that spot, but Thursday gives me an opportunity to get another angle to the event even if its not fully branded up. Several riders had been out and the light was fading when Jules hit the water. She looked a little apprenhensive on the jetty, but was soon up and riding hard. Going for all the sliders she was on fire and looked very impressive especially at the top of the A frame which was about 7' above the water when she went over it.
Again during the competition she looked fluid and this was shown in the result ... A WIN for Jules.
We look forward to seeing more of Jules on the tours and hopefully catching up with her to do a full interview and shoot ... good luck Jules for 2009 from us all at ExPix