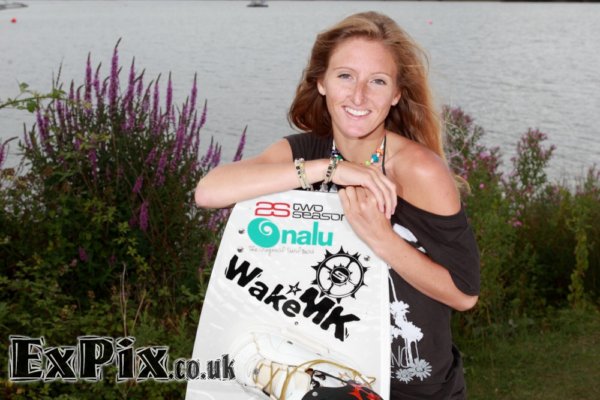 Hi I'm Lex! I spend most of my time wakeboarding but do enjoy the odd surf here and there. I have been in the top 4 UK Open Ladies for the past 5 years. I travel to all the comps that I can around the UK. I would like to ride boat a bit more in the next few years when I find the time and the dollar.
In the summer I coach ladies mornings at Box End Park once a month which are really fun, its good to see that loads of girls and women are getting involved in the sport. They have got so popular that we even have little prizes for the best effort or most improved from Two Seasons and WAW! I ride for Slingshot and get involved putting on demo days at WakeMK, we run a ladies morning alongside this where we can do double up tuition. I also work for Two Seasons. I am involved with Visual Merchandising and I run the Snow Floor in the winter months in Kingston. I also model for their website which is always fun times!
Name ........................Lex Balladon
Date of Birth..............26th Feb
Birth place.................Aylesbury
Current Home town...Kingston Upon Thames
Equipment of choice..Slingshot Drama 134, Slingshot Jewel Bindings
Sponsors...................Slingshot, WakeMK, Two Seasons, Nalu Beads
Favourite spot WakeMK for Wakeboarding, Impossibles Bali for surfing
Achievements so far?
2010 - 1st Spring Jam, 1st Ten Feet High, 3rd Longest Day, 4th Nationals
2009 3rd Summer Jam, 3rd Ten feet High, 4th Nationals
2008 4th Nationals, 4th European UK Tour Stop, 6th Overall Europeans
2007 2nd Nationals
2006 4th Nationals
Best session? Any session where I've had a lot of water time, then I feel really solid in my riding; or if my friends are all there as well as we're just mucking about having fun, or just if the sun is out - I'm a sun junkie !!
What are your goals? to keep doing what I'm doing and keep having fun with it. I would like a few new tricks under my belt so I have set a few that are a MUST by the end of the season (2010) so if you see me wearing a 5mm suit in August - stick around to see some stacks.
Favourite:
Food - mexican / italien
Music - autohype
Film - Yes I would love to star in a film
Who would you most like to meet - Eddie Aikau, he was a great waterman; I would just like to sit at Waimea with him, have a beer and chat about the surf and stuff.
Which period of history would you like to experience? Waaaaoo, what ever happened to the 80's I was around in the eighties but dont remember it! And no, not because I was drunk .... I was only a nugget
If you won the lottery what would you buy first? A set up, meaning a house with a lake and a wakeboard boat - might throw in a cable park for good measure, ooo and a hot tub.
If you could have anything in the world, what would it be? - the power of never injuring myself !
What would you do if you got the 4min warning? A non rude answer, grab a wakeboard or surfboard and have a 4min shred sesh!
What colour Smartie would you be? Yellow
How ExPix know Lex
As most people on the circuits know ExPix have been trailing around the UK (and further afield) for sometime attending all manor of events. This is how we first came accross Alexis (Lex as everyone calls her) at an event in Sheffield called Ten Feet High hosted by Sheffield Cable and Waterski. Initially we only managed to take photo's of her competing but eventually we managed to catch a moment with Lex at the nationals at Box End in 2010.Quite a chatty person we sat on the bank talking whilst we carried on taking pictures of the Nationals. Explaining her involvement and her goals etc ExPix saw an opportunity for yet another of our rider profiles. Spending a couple of hours with her the following day produced some great images for this profile.
She does a lot of work alongside Sarah Kingdom of W A W promoting women in wakeboarding, trying to get them to come along and have a go with special ladies only ride days. Alongside the competition this is a good way of showing the girls wakboarding is fun and totally accessible for anyone.
Lex does do some modelling work for the company she works for, and sorry guys she has a man in her life as she got married last year.This made the photoshoot with her very very easy! Knowing how to stand or being able to take instructions makes the photographers job so much easier, coupled with the fact that she accepts who she is and is totally at ease with images of herself (wish more women would see themselves as others do) the images were natural and warm add to that some killer action shots and a few answers from Lex and we bet this profile gets a quite a few hits.