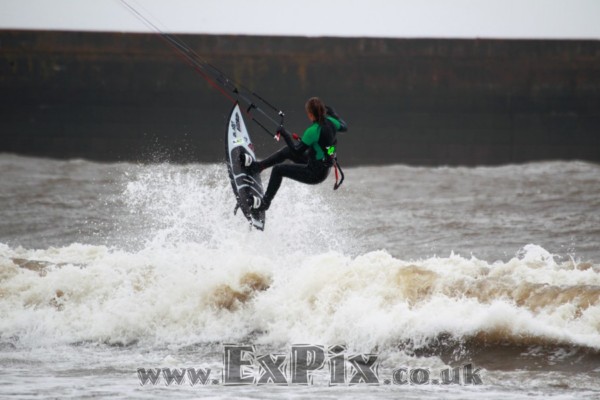 We are going to be 'tagging on' extras to the trips we make to maximise our photography potential throughout the year. This weekend (5/6th feb 2011) gave us the first opportunity to do this when went down to Porthcawl to provide the media for the SKA WaveJam that was happening there. Whilst we were in South Wales we met up with some old friends from Blast Kiteboarding. Marc and Sarah have been building their school and online shop for a few years now and it is beginning to take shape properly.
Kitesurfing in South Wales for at least ten years and surfing even longer Marc Rowley is well known, and his knowledge of the area is second to none, so whilst we were staying with him we managed to sneak a cheeky photo session in down at Aberavon before heading over to the Wave Jam.
With Marc Sarah and Alun from Blast along with some of the Mutiny Kite team we had approximately an hour in the old harbour. With the swell pushing a small wave into the harbour and for some reason a lighter wind than every where else, the waves held up a little longer and a little cleaner too. Marc and Sarah both tried the new pink fiction from Blankforce before having a go on the wave boards whilst Tom Butler was looping around the harbour on his Mutiny kites and blankforce board.
Alun Jenkins a local rider was also riding an old surf board whilst filming with his go pro camera, we look forward to seeing some of his footage later.
So with the time getting short we headed of to Rest Bay in Porthcawl to spend the remainder of the day with the Student Kitesurf Association.