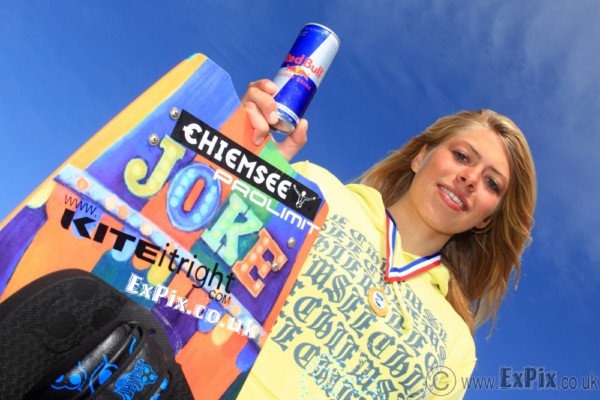 Hannah Whiteley was confirmed as the winner of round two of the British Kite Surf Championship Tour in Barrow. I'm sure ExPix speak for all Hannah's other sponsors, Wainman, Prolimit and Chiemsee in saying well done, keep it up and good luck for the rest of the British Kite Surf Tour. Hannah who is the current British Ladies Freestyle Kite Surf Champion and has been for two years is hoping to win the title for an unprecedented third time!
What's next for Hannah? Well we are planning on taking her to Noordwijk in Holland with fellow ExPix team ride Ali Barrett for the Kiteboard Open (KBO). This is a great kitesurf event based around the kiteclub in Noordwijk with family values - but don't let that put you off - there's something for everyone! Competitions on the water, stalls and activities on the beach and the parties........well, we have heard a rumour that a certain high profile kitesurfer who rides for Slingshot and Mystic may just be involved in the entertainment for the evening!
Check out last years report to see if you can work out who it is!
Back to Barrow - and as always it was Barrow that delivered wind for the fifth year running with round two being the first event with enough wind to run the whole competition. This has been the first time however that we have seen the women's fleets bigger than the mens. Whilst this could be considered a good thing in that more women are wanting to compete in freestyle, what concerns us is the numbers in the men's categories dropping so drastically, where have all the men gone?
The lack of men didn't however mean a lack of competition with the level of skill increasing greatly from last time we were on the tour. Obviously the pro's do what they do but it can be even more interesting watching the amateur ranks to see who's coming through and what the level is going to be like.
With 8 ladies ams and the juniors split in to two categories it seems a good crop of riders are on the way. Ones to watch out for are the Durrant sisters both of whom are really tidy little riders with powered unhooked moves and then in the boys Jack Deykin and Will Makinson both of whom are doing moves that only 4 years ago would have won the pro categories.
The Senior's, sorry guys, is getting a little old hat ;-) if someone doesn't push Pete of his top spot he will very soon petrify and become part of the podium! Going for his fifth win in a row Pete still shows that even at his age (he's not that old but we won't say exactly) there are plenty of tricks available in his repertoire even if he does still insist on one of the oldest moves in the book, his signature deadman in various formats!
As for the Am Men's it seemed a lost category. Gone are the high numbers of students or adult male riders, making this one of the smallest categories in the competition. This is a massive shame as previously many of the pro's had progressed from this group but it now looks like the youths are skipping this and jumping straight to pro status leaving the 'weekend warriors' in this group. Please don't take this the wrong way, there are some really good riders around; as the sport progresses all around the world the age group of the pro's has reduced significantly with world titles being won at 14, 15 etc etc and lets face it .... kids do tend to bounce, where us older guys don't! So with a full round of competition completed in the first two days we coaxed Ali and Hannah back into the water for a very brief photo session before the light disappeared behind some very grey and wet clouds !!! And yes these were taken at Barrow!
With all the competitions completed it only left free riding or and expression session for the Sunday. Hannah was buzzing her dad Pete, Ali was going huge and there were several other noticeable performances including the Crathorne sisters with a piggy back manoeuvre with audio - you had to be there to understand what sound was coming from the two girls ;-)
ExPix also went to a speed spot just outside Barrow with current British speed record holder Dave Williams, local rider Gary Powell and two newbies to speed, our own team riders Ali Barrett and Hannah Whiteley.
This was the first time Ali had tried the speed kiting properly and he took a while to find his stance and track, however once he did he posted several runs over 40knts which isn't bad for a starter. Hannah on the other hand had tried it once before and had her stance immediately. Choosing good tracks she passed the current women's GPS speed record whilst under powered on a seven. Not being able to increase the size of her kite due to her nine being damaged, she struggled on but couldn't get past 36knts. What made this very interesting was that Dave tried the board she was using and even with the right kite could only manage 38knts over 6 knts slower than on his own board. With the right kit for the day and a lot more practice both Ali and Hannah could be contenders for some speed titles both at British and International level.
We will have to wait and see!