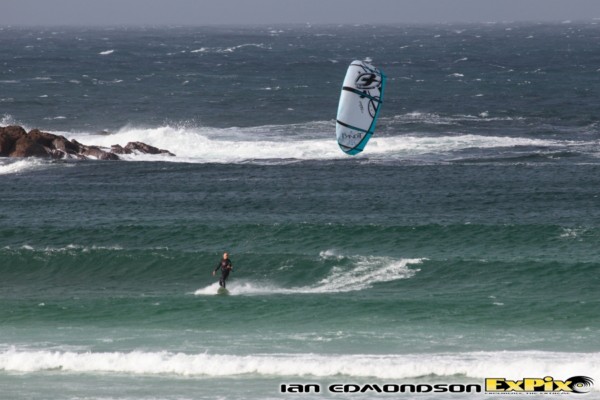 ExPix North Uist Kitesurfing Holiday Competition is a huge success! ExPix don't do things by half; so when we launched the new ExPix website we just had to throw in one amazing mega competition. And what a competition it was; 4 lucky winners won a free kitesurfing holiday, getting the chance to join the ExPix crew and 5 pro riders on a 10 day road trip to North Uist in the Outer Hebrides.
Working in conjunction with the North Uist Development Company, and, with the support of businesses on the Uists and mainland Scotland, ExPix gave the kitesurfers an unforgettable experience.
With 10 full days of nonstop action, wind every day, virgin breaks and unspoiled beautiful secluded beaches, North Uist was a kitesurfer's paradise for the international and British riders.
And it seems the kitesurfers made a lasting impression; as the riders took to the water in Oban and various spots on North Uist, national and international media took up the story, with news of the trip reaching the BBC News website, and locals came out in force as word soon spread that North Uist and Scotland was playing host to some of the biggest names on the kitesurfing scene!
ExPix North Uist Kitesurfing Holiday Competition
The Dirty Dozen:
1. 3 x British Freestyle Champion - Hannah 'Montana' Whiteley
2. 5 x Senior Freestyle British Champion – 'Calamity' Pete Whiteley
3. British Amateur Freestyle Champion - Danielle 'Dee Dee' Durrant
4. American Pro Wave Rider - Patrick 'Velcro Feet' Rebstock
5. American Pro Kitesurfer – James 'Mine's a Whisky' Ropner
6. Competition Winner – Dutch Kitesurfer Thijs 'What's your name' Vunderink
7. Competition Winner - Alex 'Maverick' G Bird
8. Competition Winner - Dave 'The Destroyer' Robertson
9. Competition Winner - Seb 'Party Like a Student' Boon
10. ExPix extreme Sports Photographer & Videographer – Ian 'Polar Bear' Edmondson
11. ExPix Marketing, Media & PR Guru – Jo 'Madam Mim' Edmondson
12. ExPix Head of Security – Kayla!
The SponsorsThe Uist Outdoor Centre
, www.uistoutdoorcentre.co.uk
Angus Doyle of Voove LTD
, www.voove.com
John Daniel Peteranna of Energee
, www.energee.co.uk
Balranald Hebridean Holidays
, www.balranaldhebrideanholidays.com
Claddach Kirkibost Centre
,claddach-kirkibost-cafe
CalMac
, www.calmac.co.uk
Holidays in Oban
, www.holidaysinoban.com
Foxlake Wake Park
, www.foxlake.co.uk
The Royal Mackintosh Hotel
, Dunbar, East Lothian www.royalmackintosh.co.uk
Hebridean Jewellery
, www.hebrideanjewellery.co.uk
And ourselves
The Low Down
Day 1 Monday 24th September
The competition winners and pro riders met at ExPix HQ in Greater Manchester for the first leg of travel to Oban. Whilst packing the minibus it soon became apparent that a 17 seater bus just wasn't big enough; note to self for future trips; hire 1 minibus for riders, crew and gear and 1 minibus for Hannah!
After a 'cosy' 6 hour journey to Oban, where we meet up with American pro kitesurfers Patrick Rebstock and James Ropner, and after checking into our accommodation; courtesy of Elaine Cameron of Victorian Villas at Holidays in Oban, who kindly supported the project by providing accommodation for the group, a good night of 'team building' was had in the Irish Pub O'Donnell's!

Day 2 Tuesday 25th September
Tuesday morning and news reached us that high winds and storms had caused the Oban to Lochboisdale ferry to be cancelled. Whilst it was an inconvenience for us, for the islanders it's a way of life. And there's no use complaining; it's not like a cancelled flight, there are no compensation payments or travel companies putting you up in hotels for the night; no it's down to you to sort yourself out until the next ferry becomes available. So for the group that meant an extra night's stay in Oban and, after getting our fill of Scottish Breakfasts and enormous pancakes, we headed to Connel in Oban for a kite session in front of the Connel Bridge.
Patrick Rebstock, James Ropner, Pete Whiteley, Danielle Durrant, Thijs Vunderink, Alex Bird and Dave Robertson all made use of the windy conditions in Oban, then it was straight back to O'Donnell's to 'ponder' the night away!
Day 3 Wednesday 26th September
Wednesday brought with it a very early start; up at 05.30 we checked in at the ferry terminal before setting out to Lochboisdale in South Uist for the second leg of our travels. After witnessing some spectacular scenery on route including schools of dolphins and breathe taking mountain ranges, we arrived on the Uist some 5 ½ hours later. Leg 3 of our travels saw us make the 1 hour journey from South to North Uist and so, two days after setting off, we had finally arrived!
News of our travels had already reached the island and, thanks to the kindness of an unknown lady on the island who, when she heard the kitesurfers were coming, baked us all some homemade millionaires' shortbread and fresh bread, and also Elaine Cleary who provided lunch; we had our hunger satisfied as we headed off to Sollas for the first of our many kite sessions on the island.
Looking out to Valley Island, and located at the top end of North Uist, Sollas is a fantastic location and a kitesurfers dream. A spit separates flat water to the left and waves to the right which proved ideal for our mixture of freestyle and wave riders and, despite the early start and the cold, everyone was eager to hit the water.
As the sun began to set we packed up and travelled to Lochmaddy to the Uist Outdoor Centre, our base for our stay on the island. Set amidst a rugged and unspoilt natural coastal environment and situated in front of its very own loch, the centre has a lot to offer. As we sat down for dinner, Astrid, our host dished up homemade soup whilst Elaine got busy preparing the main course. After a dessert of homemade cake, we checked forecasts before hitting the sack for a well needed rest!
Day 4 Thursday 27th September
Thursday morning brought with it light winds so after a breakfast of locally caught eggs and homemade bread; no wait; this isn't another Famous Five adventure, the group headed out to explore the surroundings!
Life on North Uist is very different to that of the mainland and community centres play a great part in providing facilities and meeting places for the local communities. One such place is the Claddach Kirkibost Centre where the group were treated to yet more homemade cooking for lunch.
Desperate to get back on the water, the group checked out Hosta, where only the week before the swell had reached 20ft. But with winds in the wrong direction, conditions just weren't right. The beauty of North Uist however is that there is a vast choice of beaches and it wasn't long before the riders were able to find one that match the wind direction. Riding high on the waves on a down winder from Baleshare, Hannah Whiteley, James Ropner and Thijs Vunderink kited back to Kirkibost as the group prepared to meet the NUDC and local islanders and once more sample the local cooking.
Thursday evening and it was the turn of the American riders to provide the entertainment. Teaching the group table hockey and other games, Ian lived to regret teaming up with Hannah!
Day 5 Friday 28th September
The following morning, Friday and it was the turn of pupils at Sgoil Lionacleit on Benbecula to be in for a treat as the international & British Kitesurfers paid them a visit. The kitesurfers meet up with pupils studying PE, Geography and Social Science on the beach to talk to them about kitesurfing and to give them a brief introduction, explaining how the kites work, the difference between the boards and the various kitesurf disciplines of freestyle, course racing, wave and speed, before the pupils tried their hands at pumping up the kites. Patrick Rebstock emphasised the fantastic natural resources that North Uist has, describing the beaches as 'a playground on your doorstep'.
The riders then took to the water for a kitesurfing demonstration and first to impress was Alex Bird quickly followed by Dave Robertson and Seb Boon. James Ropner, Hannah Whiteley and Pete Whiteley soon got in on the action.
The afternoon the group once again checked out Hosta before deciding to ride for a second time at Sollas. Then it was back to Hosta for a wave session, earning Patrick the nickname, 'Velcro Feet' for his insane ability on his strapless surfboard. Not to be outdone, Dave tried to get in on the action, but we're sorry to say Dave that your swim to shore as your kite went down just wasn't in the same league!
Back at base and Elaine and Astrid were preparing dinner again with locally caught produce. But it has to be said that maybe cries of "who ate Bambi" had something to do with one of our group's refusal to eat the local venison, oh and not forgetting the FB message of the piccy of the deer saying "which one do you want" and the sheep's skull on the plate beforehand!
Day 6 Saturday 29th September
Up and out early on Saturday morning, riders hit the water at Loch Scolpaig, with the back drop of Scolpaig Tower making for a perfect photo shoot. Then it was off to Culla Bay for a freestyle sesh before heading back to base to get ready for the 'local night out'.
After trying the local fish stocks, the group joined locals at The Isle of Benbecula House Hotel at Creagory for a night of Ceilidh dancing. Now, let me see, how can we describe what happened next? There is only one word that can do it justice…… Carnage!
Although everyone had a great night, let's just say tourists, locals, drink, Ceilidh dances, minibus travel, suntan cream and shaving foam are a lethal mix, enough said!!!!!!
Day 7 Sunday 30th September
So whose idea was it to swim in the Loch?
As the riders prepared for their last full day on the island, locals came out to watch the kiting at Hosta. Pete was suffering after banging is toe on his board on Saturday, James had now broken both his boards and Dave, Alex and Hannah struggled with the gusty conditions. But once again Patrick stole the show with his awesome display of wave riding.
As the tide came in, the group made their way to Sollas for one last session.
Day 8 Monday 1st October
Monday morning and it was time to pack up and leave the island as we caught the ferry from Lochmaddy to Uig on the Isle of Skye. Stopping off at Portree, the biggest town on Skye and Eilean Donan Castle, famously featured in the Visit Scotland adverts, and various other scenic spots; we made our way through the highlands on our long trip to Dunbar where we spent the night at the Royal Mackintosh Hotel.
Day 9 Tuesday 2nd October
Travelling just 3 miles outside of Dunbar town centre and we had ourselves a cheeky little wake session at Scotland's first Cable Wakeboard Park at Foxlake Adventures. With the press there to meet us and togs from the local camera club at the ready; our guys put on an impressive show, especially Dave who hit the kicker wearing the kid's sumo suit, calamity Pete who tried, but failed, to move the kicker with his shoulder and Danielle whose attempts to hit the water face first succeeded ad resulted in a bloody nose! And not forgetting Alex who never having ridden a cable before landed just about everything he tried!
After an afternoon at the Glenkinchie distillery where we just had to try out the merchandise, we spent our final night on the tiles in Edinburgh.
Day 10 Wednesday 3rd October
So Wednesday morning, battered and broken from the cable, unable to move knees or shoulders and with some of our soldiers having gone AWOL, or arriving at the wrong hotel and having to be directed back across Edinburgh in the early hours of the morning, then getting back and finding themselves locked out of their room; you know who you are; it was finally time to travel back to ExPix HQ, off load passengers and do our best to restore the minibus to its former glory.
In summing up the trip it was a fantastic experience; we had a great bunch of people who all gelled well and made it what it was. Dutch rider Thijs Vunderink, who won a place to join the group said; "As soon as I saw that ExPix were running a competition to North Uist I just had to enter straight away. It's a place I have always wanted to go and I fell in love with the island the moment I saw it. I'd like to come back again soon and have a number of friends who I know will want to join me." And American pro wave rider, Patrick Rebstock said, "This is my first trip to the UK and I have been blown away by North Uist. I've caught some awesome waves at Hosta and Sollas beaches on North Uist; it's really special to get to ride at unreal virgin breaks."