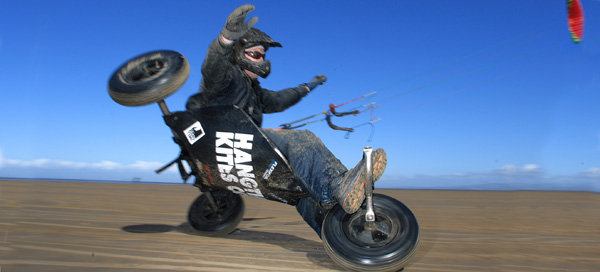 The Hangtime Huge Demo weekend in Fleetwood in the Noth of England had a fantastic industry response and rider turn out for their first event of the year.
With a plethora (oooo big word) of manufacturers supporting the event there was always going to be a good turn out.
With suppost from BKSA youth training team, NaishUK, Best, Star Kites, Trampa, Wind Designs, North (with the young blood UK team) to name a few the event attracted a very good turn out. And with the position of Hangtime on the beach front passing trade was good especially on the Sunday wih the warmer weather and blue skies.
It was a shame that the wind wasnt quite as good as it could have been, but it didnt stop people trying out the new toys for the season. The BKSA Youth Training Team with Andy Gratwick Christian and Karin were on hand to give advice and training to youngsters who ae looking at competitions this year. The junior section is looking pretty healthy this year! With dummy heats on the water being filmed and classroom theory the juniors should have picked up some good tips for the coming seaon of events.
Back at the main site there was enough wind to demo the kites ...if not at full power, and also just enough to get the landboarders and buggiers out onto the massive area Alex has for land kiting when the tide drops.
With a lot of the big named brands there there was plenty to try and view with landboards, kitesurf boards, equipment, and chance for a general chat to distributors and pro riders. This will probably the biggest turnout for a shop demo this year and well done to Alex for organising this possiblitly to play with the new toys!
Looking forward to the next time .....