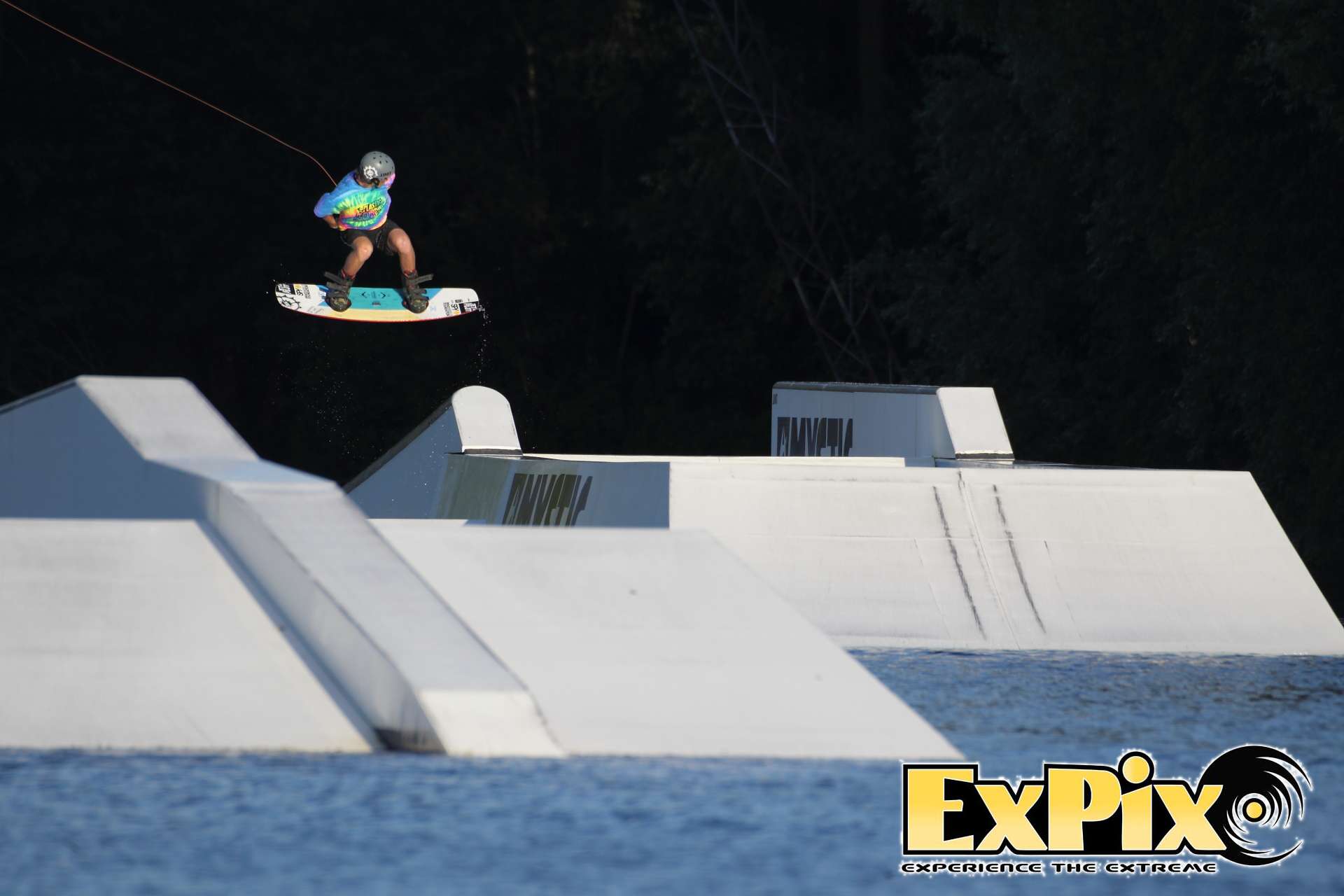 Liquid Leisure was buzzing mid-July as over a 150 wakeboarders from 25 or so countries descended on the Datchet wakepark for the Plastic Playground International Wakeboard Championships.
With 14 categories running from U9s – 19 -29 in the Amateurs, 30+ - 50+ in the Masters and Pro Men and Pro Women; there was a lot to get through during the week, particularly for the ExPix team who were there to document the event. Early starts and late finishes were the order of the day as the crew set about editing the thousands of images taken each day, ready for displaying in the ExPix stand.
Kicking off the action on Wednesday 13th July were the am qualifiers, where Poland's Agnieszka Kado gave fellow wakeboarders something to think about in the 10 – 13 Girls heats. Tiny in statue but big on skill, Agnieszka showed amazing talent as she fearlessly hit the obstacles. The standard of riding continued throughout the categories, making hard work for the judges marooned on the island in the middle of the lake.
Thursday was the Pro Men Qualifiers. With their eyes set on joining the invited Pros and the opportunity of getting their hands on the $40k cash prize fund, they held nothing back. But with 4 heats of over 8 riders in each heat and only 4 riders going through; the pressure was really on.
Qualifiers were as follows:
Heat 1 - (88.15) Joe Battleday – UK, (60.3) Liam Rundholz – Germany, (57.8) Bene Tremmel – Germany & (53.3) Cain Hamilton – UK
Heat 2 - (64.1) Nick Schaefers – Germany, (63.5) Jack Battleday – UK, (57.9) Jamie Neville – Australia, (52.3) Mikey Bland – UK
Heat 3 - (47.2) Bobby Carne – France, (44.5) Jake Pelot – USA, (44.5) CK Koester – UK & (43) Enrique .C Labielle – Spain
Heat 4 - (53.5) Matty Muncey – UK, (48.9) Brady Patry – USA, (45.7) Mateusz Wawrzyniak – Poland & (41) Jordan Darwin – Spain
On Friday it was chance to see the Pro Women in action, in their first ever Plastic Playground International Championships. Straight into the Quarter Finals and with only the top 2 girls in each heat automatically going through to the semi-finals, the girls had to be at the top of their game from the offset. Earning themselves a place in the semi-finals were:
Heat 1 – (87) Julia Rick – Germany & (54) Madison White – UK
Heat 2 – (54) Maxine Sapulette – Holland & (45.5) Michela Phillips – Canada
Heat 3 – (45.5) Angelika Schriber– South Africa & (44) Elizeveta Pruzhanskaya – Russia
Heat 4 –68) Anna Nikstad – USA & (57) Sanne Meijer – Holand
Heat 5 – (57) Jamie Lopina – USA & (41.5) Megan Barker - UK
For those that didn't quite make it first time round the LCQ (last chance qualifiers), were their only hope.
And taking advantage of this second chance was:
Heat 1 – (42) Deanna Hatten – Australia & (32.5) Melissa Colborne – South Africa
Heat 2 – (30) Maria Cuenca – Spain & (28) Katie Batchelor - UK
Heat 3 –(54) Taylor McCullough – USA & (53) Steph Caller – UK
The Pro Men followed the same format with the following riders making it through to the semi-finals:
Heat 1 - (75.5) Bene Tremmel – Germany & (64.5) Liam Peacock – UK
Heat 2 – (73) Aaron Gunn – Australia & (68.5) Yonel Cohen – USA
Heat 3 – (72) Chandler Powell – USA & (69) Ryan Peacock – UK
Heat 4 - (78.5) Busty Dunn – Australia & (69.5) Joe Battleday – UK
Heat 5 – (67) Dominik Herneler – Austria & (58) Jamie Neville - Australia
Heat 6 (71.5) James Windsor – Australia & (68) Daniel Grant – Thailand
Joining them via the LCQs were:
Heat 1 - (62) Guenther Oka – USA & (57) Guy Frier – Israel
Heat 2 - (61.5) John Dreiling – USA & (53) Matty Muncey – UK
Heat 3 - (55) Victor Salmon – Belgium & (53) Jack Battleday – UK
It was a mixture of nerves and adrenaline for the Amateur and Master Finals on Saturday. Whilst the youngsters showed outstanding promise; the Masters showed they still had it mixing it up on the rails and obstacles in fact most of them could probably still have given the pro qualification a good shot …even if their bodies are feeling the effect of years of punishment.
The day finished with the Presentations.
Sunday and it was over to the Pro semi-finals and the all-important finals. Defending Plastic Playground Champion, Dominik Hernler faced stiff competition in Heat 2, fighting for a place in the finals against 2014 Plastic Playground winner Yonel Cohen and Australian rider, Aaron Gunn. Snatching the coveted final places, Gunn and Cohen made it through to the finals, ending Hernler's chances of retaining his title.
In Heat 3, James Windsor from Australia blew his chance of a place in the final, crashing on the rails after waxing his board too much. Windsor who is known for his skills on the rails said, "I should have listened to my first instinct and left the board alone".
Through to the finals were:
Heat 1 – (76.5) Guenther Oka & (72.1) Busty Dunn – Australia
Heat 2 – (73.5) Aaron Gunn – Australia & (72.6) Yonel Cohen – USA
Heat 3 – (77.5) Chandler Powell – USA & (76.1) Ryan Peacock – UK
Up next was a display by the Squibb FMX Team. Unfortunately the planned Jet Ski demo had to be cancelled due to problems with the engine, (its power blew a pipe!) but ExPix managed to bag a few cheeky shots during the practice.
With $10,000 up for grabs for the Plastic Playground 2016 Men's Champion, there was everything to play for in the Pro Men's Final. Pressure was on Ryan Peacock, the only UK finalist to represent the host nation. And represent he did! Looking choked he took third spot on the podium, picking up a tidy $4,500 as his Dad watched on, overcome with pride. Aaron Gunn however proved the consummate pro with a couple of very polished runs and he took the win over the 2014 winner Yonel Cohen.
Fancy getting in on the action? Then make a note of the dates and book your time off work 'cos Plastic Playground 2017 is happening on 10th – 15th July 2017.
Results
Pro Men
(81.1) Aaron Gunn – Australia
(78.7) Yonel Cohen – USA
(74.3) Ryan Peacock – UK
(70.8) Guenther Oka – USA
(70.5) Busty Dunn – Australia
(65.9) Chandler Powell – USA
Pro Women
(61.5) Jamie Lopina – USA
(60.5) Julia Rick – Germany
(57.8) Anna Nikstad – USA
(52.3) Maxine Sapulette – Holland
(45.5) Angelika Schriber – South Africa
(44.4) Michela Phillips – Canada
(44.4) Taylor McCullough – USA
(31.4) Megan Barker – UK
U9 Girls
(21) Charlotte Lynes – UK
10 – 13 Girls
(72.75) Agnieszka Kado – Poland
(50.5) Telma Cester – Spain
(44.25) Eve Smith-Lang – Scotland
(28.15) Tamina Richardson – UK
10 – 13 Boys
(93.3) Loic Deschaux – France
(69.5) Max Cuckney – UK
(59.5) Maximilien Daelemans – Belgium
(52.5) Ethan Marston – UK
(48.25) Kallum Anderson-Wilson – UK
(42) Tom Clark – UK 14 -18 Girls
(61) Madison White – UK
(36) Elise Cater – UK 14 -18 Boys
(81) Stefan Hahn – Austria
(65.5) Bobby Carne – France
(54) Artus Bryan – France
(52) Asseraf Enzo – France
(50.5) Rien Van Der Pas – Germany
(43.5) Blair Fraser – UK
19 – 29 Amateur Women
(34) Hope Englebretsen – Australia
19 – 29 Amateur Men
(76) Dan Baelselman – UK
(61.75) Christopher Colborne – South Africa
(34.5) Noel Rowan – Ireland
30 + Women
(79) Steph Caller – UK
(38.25) Nada Hornakova – Slovakia
(42) Lex Balladon – UK
30 + Men
(61.5) Matt Crowhurst – UK
(50) Jonty Green – UK
(37.5) Ben Hitch – UK
(26.7) Gouzou Eric – France
40 + Men
(62.5) Mark McDonnell – UK
50 + Men
(51.25) Phil Good – France
(17) Mark Osmond – UK