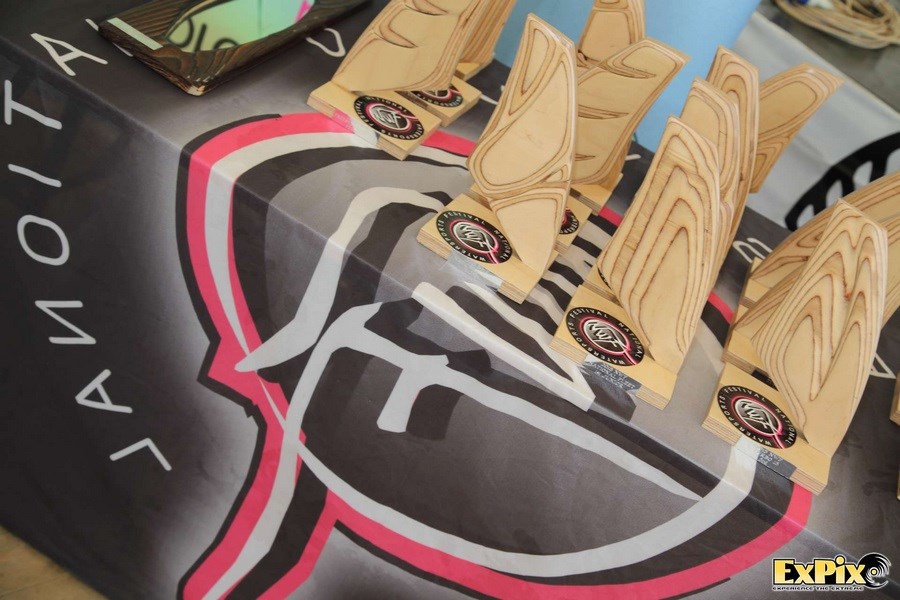 The National Watersports Festival (NWF) returned to Hayling Island for yet another weekend of watersports competitions, clinics, 'Have a Go sessions and demos.

Always well supported, the seafront was awash with vans and motorhomes in every shape and size as riders and trade gathered for another meet.
Whilst the wind was light on the ground, professional windsurfer Colin 'Whippy' Dixon, co-owner of Windsurf Coaching, was on hand to impart his wealth of knowledge in the form of free windsurf coaching clinics. As Colin told ExPix; "I'm a big fan of the NWF; not only does it provide an excellent opportunity to promote our windsurfing clinics within the windsurfing community but it also allows the windsurfers to try before you buy and to find a style of windsurfing coaching that suits them. It's a great place to catch up with everyone too."

Windsurfing legend, Farrel O'Shea, owner of O'Shea International, and holder of the British speed sailing record for all sail powered craft reiterated Colin's remarks saying; "The NWF is a great platform and showcase for our sports. From our 'O'Shea' company perspective we really like the windsurfing and SUP elements, which we believe complement each other perfectly for either a windy or no wind eventuality. It's a good opportunity for us to show both our existing and new release products to both trade and indeed the wider audience, our valued customer!"

Moving on from the National Windsurfing Festival, the NWF expanded in 2013 to include SUP, kayak and kitesurf with the hopes of becoming an all-inclusive watersports festival. But as with any expansion it takes time to build and with some of the sports under represented or not present at all in 2015, it will be interesting to see how the festival develops over the coming years. With a strong concise message in its core elements of windsurfing, it would be good to see this message expand across the whole realm of watersports and to see the NWF attract support form athletes and industry alike in as many watersports as possible.
Below is a small section of image click on this link to view all the pictures from the National Watersports Festival 2015