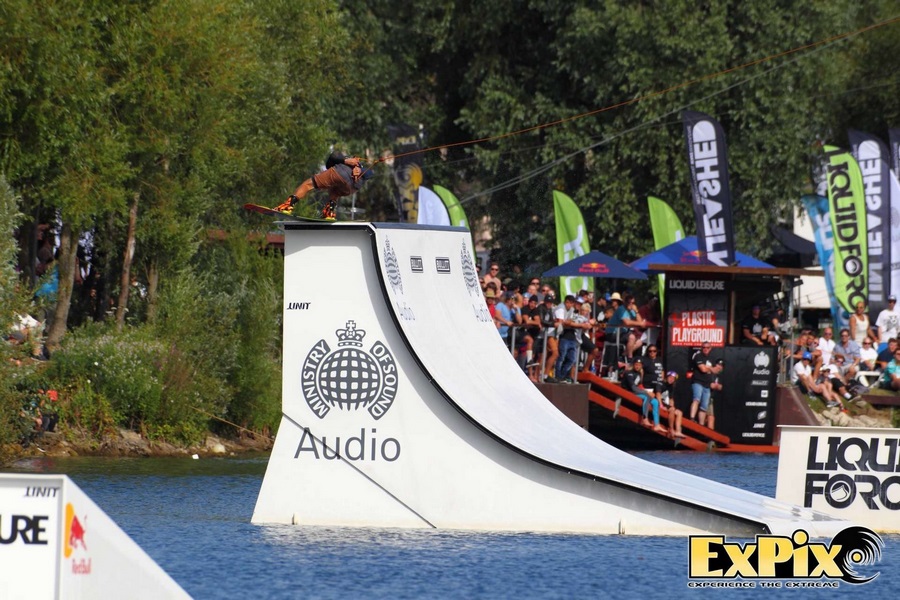 In just 2 years, Plastic Playground has arguably grown to be the biggest cable wakeboarding event on the UK wakeboard calendar.
Drawing in entries from over 25 countries and with the addition of women's competitions and categories for amateurs riders from under 9's to over 50's; Plastic Playground has to be one of the most inclusive international wakeboarding competitions around.
After 2 years of being a men's only competition, Liquid Leisure will be opening its doors to the female wakeboarding community as it welcomes female pro and amateur wakeboarders for the first time to Plastic Playground.
Former European champion, Liquid's own, Meg Barker will face stiff competition from the USA in the form of Megan Ethel and Taylor McCullough ranked 1st and 4th in the world respectively by the WWA (World Wakeboard Association).
And in the pro men's category, 2015 Plastic Playground champion, Dominik Hernler will be defending his title from the likes of 2014 winner, Yonel Cohen and a whole host of wakeboarding's finest. In amongst that list are UK riders; Liam Peacock, Nick Davies, Ryan Peacock and Freddy Carter, all hoping for a shot at the title.
Reading like a Who's Who list of wakeboarding, the Plastic Playground line up is set to get any heart pumping. And on hand to capture all the action will be the ExPix team. Partnering with Plastic Playground for our 3rd year, ExPix will be documenting the event from start to finish and bringing you all the news as it happens.
Qualifying rounds start on Wednesday 13th, with Quarter Finals and Last Chance Qualifiers being held on Friday and Saturday being given over to the Amateur Finals with presentations to follow.
Sunday 17th July promises to be an action packed day at Liquid; a mixture of extreme spots demos including wakesurf, FMX, fly boarding and jet ski will build the atmosphere for the climax of the event, the pro men and women's finales. All eager to get their hands on the $40k Cash Prize Fund; riders will be pulling out all the stops in this toughest of wakeboarding contests.
And to whet your appetite, click on the event links to see the extreme and action sports event reports from Plastic Playground 2015 & Plastic Playground 2014